Binary Astronomy, LLC

Postal Address
114 Ensign Dr. Unit A
Dillon, Colorado 80435-8502

Office Address
Village Square #118
0189 Ten Mile Circle
Copper Mountain, Colorado 80443

303-642-7774
419-715-9512 FAX

Developing cutting-edge computing techniques for astronomical research
---
Public Tools
---
Current Projects
Search for moons of Mercury from MESSENGER spacecraft in orbit around Mercury
Search for Vulcanoids (asteroids interior to Mercury) from MESSENGER spacecraft
CUDA-based high performance computing: solar system dynamics & solar corona image analysis
Search for moons of Pluto with the 10-meter Keck-II telescope
Asteroid shapes & spins from adaptive optics images
Pluto occultations
---
News
April 2005: Two more of our projects have been selected as experiments for NASA's Spitzer infrared space telescope. The first will combine new measurements with recent Hubble data to estimate the masses and densities of two small binary asteroids. Previously, spacecraft flybys have been the only technique to measure the masses of small asteroids. The second is an extension of last year's project (see below) to include a second family of young asteroids.
July 2004: NASA's Space Telescope Science Institute has announced that it will fund a "Deep Archival Search for Trans-Neptunian Objects", led by Binary Astronomy's Dr. Tamblyn with colleagues at Southwest Research Institute and the University of Pennsylvania. This effort, which will require tens of CPU-years worth of computation applied to existing data obtained with the Hubble Space Telescope, promises to be the deepest search ever for icy bodies in the outer reaches of our Solar System. Roughly half the data to be analyzed were obtained for completely different purposes but can be adapted for this purpose with custom computational techniques.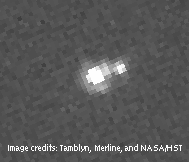 July 2004: With eight orbits of freshly awarded HST time, we will participate in much more detailed followup observations of two of the small asteroid binaries we co-discovered.
April 2004: Our experiment proposed for the Spitzer Space Telescope has been selected in the first competitive international review. This experiment will compare a selection of very young asteroids with older asteroids to better understand large collisions and asteroid aging.
March 1, 2004: Dr. Tamblyn of Binary Astronomy, LLC and colleagues announce the discovery with the Hubble Space Telescope of a satellite of minor planet 17246. Binary Astronomy, LLC has participated in the discovery of more than half of the known satellites of main belt asteroids. After discovery, these systems are used to probe the structure of asteroids and their collisional history to learn about the formation of planets.

October 26, 2003: Binary Astronomy scientist co-discovers moon of tiny asteroid MP 22899 (still unnamed) with Hubble Space Telescope images. This is the smallest main-best asteroid known to have a companion. It is in the same asteroid family as Ida and Dactyl, the first asteroid binary discovered. These images are part of a large "SnapShot" survey aimed at testing if asteroid binaries are created in catastrophic collisions.
August 17, 2003: Bill Merline (Southwest Research Institute), Peter Tamblyn (Binary Astronomy, LLC) and colleagues discover a satellite of Minor Planet (130) Elektra with the Keck II telescope. The satellite is 2500x times fainter than the primary, but still easy to distinguish at a separation of 0.7 arcseconds thanks to the telescope's superb adaptive optics.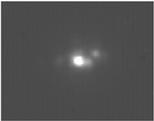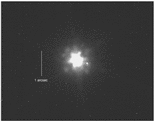 February 18, 2003: Binary Astronomy has participated in the discovery of 2 asteroid satellites. Adaptive optics on the Keck and VLT telescopes allow us to image these satellites fractions of an arcsecond away from the much brighter primary asteroids. Asteroid satellites are a new, important tool for probing the structure of asteroids.
June 15, 2001: Perfect scaling shown in larger tests demonstrates that our MPIM library can provide costless communications scaling in large computer clusters. This can speed up some classes of communication-limited computer simulations by a factor of log2Nnodes relative to standard message passing solutions. Click here for more information.

---
June 1, 2007 webmaster@ãstro101.com